PARENTING SPEAKER: MOTIVATIONAL, YOUTH KEYNOTE SPEAKER
BUSINESS • LEADERSHIP • TECHNOLOGY • FAMILY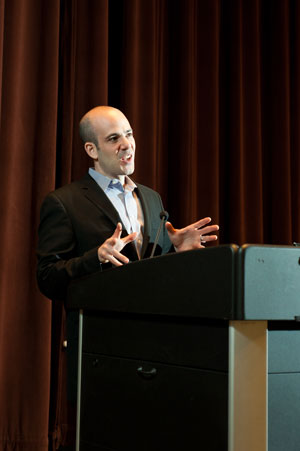 One of today's best motivational keynote guest speakers for youth and business, Scott specializes in crafting key note guest speaking presentations for schools, associations, organizations, meeting planners, trade events and businesses of all sizes.
A veteran parenting speaker and proven entrepreneur celebrated for his ability to excite and engage speaking audiences with inspirational speeches, presentations, workshops, interviews and custom training programs, we invite you to consider booking him for your next public event or corporate retreat today.
From meetings to conventions, business summits and industry retreats, find out why top executives and thought leaders the world over recommend Scott Steinberg to put today's biggest topics, trends and headlines in perspective.
Areas of Expertise Include:
Business
Technology
Media
Parenting
Youth
Family
To book Scott as a guest keynote speaker for your next event, please contact: Dan Dwight, 888-507-2246
Sample Topics:
Online Privacy and Internet Safety for Kids – The new rules of online safety, texting and social networking: How to keep kids safe online on the Web or Internet, including high-tech etiquette, relationship and privacy essentials for all ages.
Technology for Teachers: Electronic Education - High-tech learning made simple via classroom strategies that teachers, educators and instructors for every age group (kids, teens, college, etc.) can use to engage and excite children.
Social Networks: Parenting Connected Teens, Tweens and Children – The expert advice and inside secrets parents need to make Facebook, Twitter, Google Plus (+) and other social networks a safe and enriching part of family life.
Kids and Cell Phones: When to Dial In? – At what age should you give a child a cellular phone or smartphone? Common questions answered, including the role apps, mobile phones and location-based services can play in your household.
Make Technology Fun for All Ages – From iPhones to computers and video games, tablet PCs (e.g. the iPad 2) to electronic toys (LeapFrog, VTech, etc.), when and how to introduce kids to technology, plus instill positive and healthy computing habits.